Juga... Rakyat bangkit, inginkan perubahan......???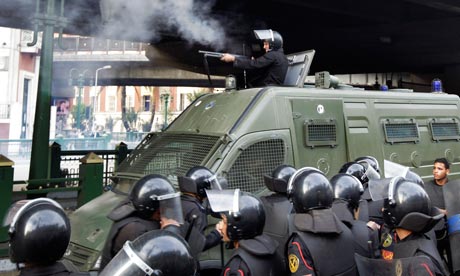 A riot policeman in a van fires rubber bullets as Egyptian riot police clash with
anti-government activists in downtown Cairo, Egypt Photograph
Here's a summary of what has been a very eventful morning.

• Mohamed ElBaradei, one of Hosni Mubarak's fiercest critics and a former UN weapons inspector, has been arrested after appearing on the streets in Cairo. Before he was detained ElBaradei claimed that Mubarak's regime was on its "last legs".
• Riot police fired teargas, water cannon and sound bombs to disperse protesters immediately after Friday prayers in Cairo. Teargas was also used in Alexandria. There are reports that a journalist from al-Jazeera and one from the BBC have been injured in the violence.
• The regime has closed down internet access and several mobile phone networks in an apparent attempt to prevent protesters mobilising. The UN general secretary Ban Ki-moon, human rights campaigners have condemned the censorship. WikiLeaks has released a new batch of secret US embassy cables that detail police brutality in Egypt.
• Despite a massive security crackdown protests have continued amid reports that crowds have gathered outside the Mubarak's presidential palace. Several leading members of the banned Muslim Brotherhood were arrested overnight after the organisation said it would take part in the demontrations for the first time.